Join us at one of our diverse dining venues or call ahead for to go ordering.
Chef's Weekly Chalkboard Features
If you would like to be added to Chef's weekly chalkboard features e-blast, please SIGN UP.
The Palms | Dinner Menu
910.457.7300
---
The Grille | Dinner Menu
910.457.7300
---
Pelicatessen | Menus
910.457.0266
---
Every island visitor must experience the beautifully open clubhouse while enjoying a meal that you wonít forget. Club menus vary from venue to venue and include an array of regional seafood specialties, seared-to-perfection steaks, pub type sandwiches, hearty soups and salads, and desserts sure to complete the experience.
The Clubís experienced culinary team strives to embrace the "Farm to Table" concept by using locally produced products as often as possible. We're sure this passionate group of culinarians will entice you with specials that can be found in the clubhouse as well as at the Peli throughout the off-season. Don't miss trying the crab cakes!
Sunday Brunch ~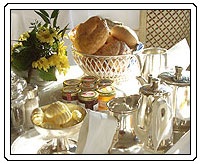 The Club's Sunday Brunch, offered from 10am-2pm every Sunday in the clubhouse, has become one of the best deals on the island at $11.95++/adults and $7.95++/children 3-11. Between the made-to-order omelet station, and the always changing breakfast and lunch features, the whole family will find something they like. Please call the Club for Brunch reservations.

BYOWB ~
Another popular, year-round special in the clubhouse is "Bring Your Own Wine Bottle" every Wednesday. You won't pay a corkage fee but you will enjoy your favorite wine paired with the best food around.
Large Parties ~
Parties of more than 8 people will be seated at 2 separate tables in the Grille. Should a party of more than 8 people want to all dine at the same table they are more than welcome to dine in the Palms if seating is available. The Palms offers open seating- no reservations required.

The Club Food & Beverage Department would like to remind our members and guests to keep in mind that the reservation times for a la carte, Sunday Brunch, and special events book very quickly. Please take the time to plan ahead and make your reservations early!
CLUBHOUSE DINING DRESS CODE
Casual resort and golf attire is allowed in the dining rooms. Tennis attire is allowed in the dining rooms for lunch and on the Terraces. No bathing suits, tee shirts, or cutoffs may be worn in the Clubhouse. Dress denim is permitted in the Clubhouse however, hats and/or visors are not permitted to be worn by gentlemen anywhere in the Clubhouse, unless as part of a formal attire during special events.
For evening dining in the main clubhouse, slacks or dress shorts along with collared shirts are required for the gentlemen. Gentlemenís shirts must be tucked into slacks or shorts, unless approved by Club Management as acceptable fashion. Ladies are expected to dress in a fashion compatible with the dress required of gentlemen. When in doubt of whether attire conforms to the Clubís dress code policy, please seek the advice of the Club Staff.
CLUB CANCELLATION POLICY
Dinner reservations are strongly recommended and may be required from time to time, as determined by the Club Management. Members are requested to assist in maintaining required service and food inventory levels by making reservations for dining at least twenty-four (24) hours in advance whenever possible. For a party of ten (10) or more, forty-eight (48) hour notice is required, and it is further suggested that for these larger parties a set menu be arranged whenever possible.
Notice of changes or cancellations is required no later than three (3) hours prior to the reservation time. For parties of ten (10) or more, twenty-four (24) hours notice is required, and in case of a special event, by the published cancellation date. If proper notification is not received, a late cancellation fee as determined by the Board of Governors from time to time per meal, per person or 50% of the special event charge shall be imposed.

Reservations can be made by calling the Clubhouse at 910.457.7300.